Whether you are a blogger looking to come up with more craft making ideas, or an average Joe just wanting to be a bit more creative, you are in the right place.
This post contains some affiliate links.  Click here to read my full disclosure policy.
1. Check Your Excuses at the Door
These are the most common excuses that I've heard, or that I've made myself. Just go ahead and check them at the door.  Let's get past these excuses, so we move on to crafting genius!
excuse #1 – Not enough time.
excuse #2 – No room to be work/craft/be creative.
Fun fact: I craft and blog out of a closet. We don't have a spare room for a dedicated home office or craft room, so I make it work with a closet. It's a  Home Office in a Closet, and I love it!
excuse #3 – You don't know what to make.
Ummmm… Hello?  My name is The Crazy Craft Lady.  You don't know what craft to make?  I think I can help with that!
I'm always on the hunt for new craft ideas. Here's what is on my radar lately: 15 New Craft Ideas
…. or browse my crafts archive!
excuse #4 – None of my ideas are original!
That's OK.  One of my favorite books addresses just this issue.  In Big Magic, Elizabeth Gilbert talks about authenticity over originality.  Read more about it here.
excuse #5 – Crafting costs so much money / I don't want to invest in a bunch of new/fancy supplies.
excuse #6 – I don't have room to store my finished craft projects.
Make a craft that does double duty – like one of these:
2. Find Your Crafting Style

Try something old. Pick up an old hobby you haven't done in years… OR
Try something new – like one of these 15 new craft ideas that are on my radar right now:

Check out a new crafting book… OR

Try an online craft class: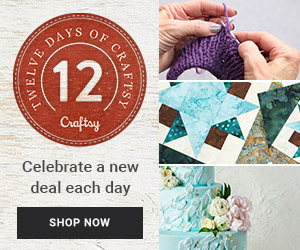 3. Make it a Family Affair

You know what they say: "The family that crafts together, stays together."  That's how it goes… right?
Try out some of these kids craft activities to get started:
Oh, and while we are talking about crafting with the kids, let's keep all of their supplies organized.  Read all about it here: How to Organize Kids Craft Supplies (real-life advice from a busy mom)
4. Join Me

Sign up for a FREE weekly email newsletter to get creative inspiration delivered straight to your inbox!